The New Sleep I and II →
Structuring Somnolence images published in the Trove Journal 2011
Structuring Somnolence at the Embodied Knowledges... →
19-21 October 2011 Spectrum Gallery Edith Cowan University, Western Australia
Structuring Somnolence at the 17th International... →
NEUROARTS PANEL 17 September 2011 Istanbul, Turkey
Watch
Structuring Somnolence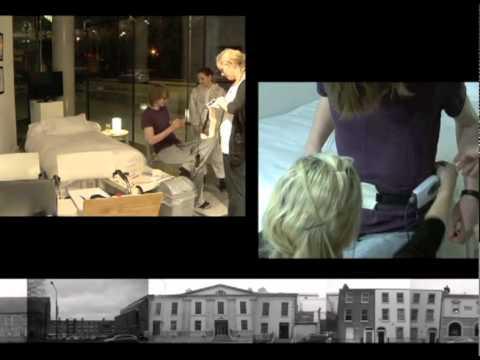 Watch
adjusting EEG electrode Somnolence Structuring: Monument Valley
Watch
lights out- sleep Somnolence Structuring: Monument Valley
Watch
positioning Somnolence Structuring: Parthenon
Watch
sleep study set-up Somnolence Structuring: Parthenon
Watch
adjusting body position sensor Somnolence Structuring: Perth City Skyline
Watch
Bio-Calibration as Somniloquy: "Corpus" by Stephen Wilson Somnolence Structuring: Perth City Skyline
Watch
sleep study set-up Somnolence Structuring: Perth City Skyline
Structuring Somnolence featured in articles about... →
Art really comes alive in 'lab' exhibition | Nicola Anderson, Irish Independent, 28 January 2011 http://www.independent.ie/entertainment/arts/art-really-comes-alive-in-lab-exhibition-2514694.html   Visceral curator: Making art out of living tissue | Amanda Gefter, New Scientist, 31 January 2011  ...
Structuring Somnolence featured in Irish... →
article written by Geraldine O'Connel Respiratory Scientist at St. Vincent's Private Hospital and Structuring Somnolence's collaborating sleep scientist in Visceral: The Living Art Experiment, 2011 Click on Newsletter March 2011 PDF (pg. 4) for full article
http://www.sciencegallery.com/visceral →
Structuring Somnolence makes a rest stop in Dublin
VISCERAL: THE LIVING ART EXPERIMENT A SymbioticA Exhibition at the Science Gallery, Dublin 28 JANUARY - 25 FEBRUARY 2011 The exhibition will explore and provoke questions about scientific truths, what constitutes living and the ethical and artistic implications of life manipulation. It will include 15 artworks from ten years of SymbioticA's residency programme, featuring the following...
Documentation from Open Studios →
click here
SpaceBaby - performance installation and lab in... →
Dreamy Science Experiments with Art →
Structuring Somnolence on SaCrlt blog
Science Network WA features Structuring Somnolence →
by Laura Glitsos
Structuring Somnolence on ABC News Sleep patterns... →
ABC News By Samia O'Keefe
"Creating Art of Sleep" UWA News →